Instrumental Music
- Acoustic concert music including solo, chamber and orchestral works.
BEING ALICE - Ver. 2.1
purports to be the recently discovered musical manuscript that was meant to accompany the adventures of Alice in Wonderland. It is a theme and variations arranged for chamber orchestra with optional narration and multimedia.
The work can also be thought of as a "young person's guide to musical
composition,"
as each variation explores different techniques (inversion, retrograde, mirror, augmentation, canon, etc.).
Macha is an orchestral work for Baritone and Orchestra. John Davidson is the baritone.
Harold Aks conducts the Sarah Lawrence Orchestra in 1977.
M x KRONOS
was commissioned by the KRONOS String Quartet.
This recording was made in 1980 at Carnegie Recital Hall.
In this performance, the players are Dave Harrington and John Sherba on violins, Hank Dutt on viola, and Joan Jeanrenaud on cello.
Baroque Fantasy
for solo violin was written for Max Pollikoff. He premiered the work at "The Music in Our Times Series at The 92nd Street YMHA in New York City in 1974. Karen Bentley Pollick performed the work in 2012 as part of a video music series.
Now, Then & Again
exists in two versions - the original version was for Bassoon and Piano. The second version is an electronic dance suite. A
long, long time ago, I played the bassoon. During that era I wrote a piece for bassoon and piano - the true story of the "clown" of the orchestra.
Recently I dusted off the music and had it inputted into modern notation software. Below are both the score and mp3 files - rendered by the computer.
The work is freely available for performance.
Bassoon_Sonata1st_Movement.mp3
Bassoon_Sonata 2nd_Movement.mp3
Bassoon_Sonata 3rd_Movement.mp3
Telling Tales
is performed by Karen Bentley-Pollick, violin, and Jonathan Salezedo, harpsichord. Based on a set of children songs. The first version is from a live performance at the First Presbyterian Church in Palo Alto on May 4, 2019, The second is the animated version.
Diamond Trio
for Oboe, Bassoon, and Piano was originally written in the early 1980s. It was premiered at Alice Tully Hall in Lincoln Center in NYC. It has been slightly updated for 2017.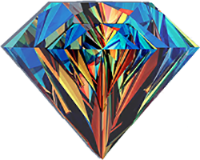 Email: info@diamondarts.net
Phone: 646-257-3742