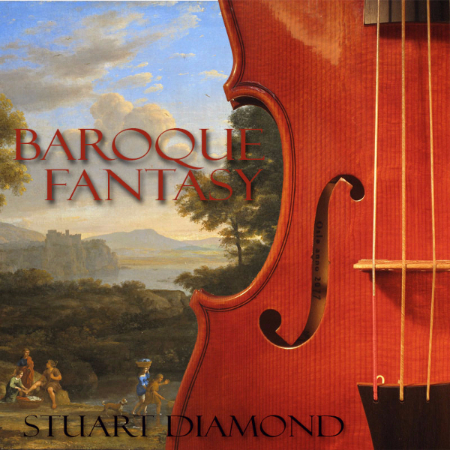 (The above is from one of Max' Pollikoff'ss exquisite performances of the Fantasy. . I suspect the recording is from 1977.)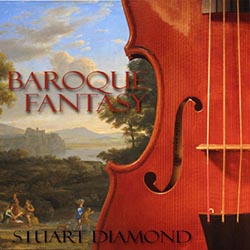 BAROQUE

FANTASY
The Story
I first called Max Pollikoff at the suggestion of my music composition teacher at Sarah Lawrence. I had just graduated and was benignly naive as one could be about next steps. I was tired of school and was ready for the real world. So I called.
For those familiar with the today's new music scene in New York, you might think of Max as the Mary Rowell or Todd Reynolds of his day. Back in the 1950s, 60s and 70s he was the leading contemporary music violinist in the scene, responsible for the commissioning or performing of hundreds of new works. Only that he was 70ish, a true "original" in the best sense - and funny. Something akin to a Mel Brooks version of what a New York Jewish violinist should be.

An American born prodigy, Max Pollikoff travelled as a teenage to Vienna to study with Leopold Auer. This training represents a unique legacy. Not only was Leopold Auer Europe's preeminent violinist soloist and teacher, he was also a champion of the new violin music of that era. Only that the modernists he hung out with when he was young were the likes of Tchaikovsky and Brahms.
In due course, Max returned to the States to begin his career as soloist, chamber musician, studio recording artist, and one of the founding fathers of the new music scene in New York.
Max established the "Music in Our Time" series, whose primary residency was at The 92nd Street Y. The series ran from the 1950s through to the 1970s and was one of the first ongoing classical music series in America. It showcased the works through its tenure of hundreds of established and up and coming composers.
I first met Max and his wife in his apartment just off Central Park West near Lincoln Center. After a few minutes of banter we got down to business. Max suggested I write a solo piece for violin -like the solo Bach works. From his perspective, I now realize, it was a safe bet, easy to produce as it required only himself to perform. And he wasn't investing a lot of money and resources on extra players and rehearsal time on an unknown young composer. But for me it seemed like the greatest of opportunities - to work on a new piece for my favorite instrument. (In secret I was a frustrated non-violinist - having grown up on a staple of Heifetz recordings of all the great Romantic violin concertos. In high school, I had even written out a transcription of the Tchaikovsky Violin Concerto for bassoon, so I could play it.)
I went home and set to work, studying the Bach solo works and others, such as the solo violin works of Eugène Ysaÿe. What emerged was a three movement Fantasy, a re-creation of solo baroque pieces through a contemporary filter – all the while working through fingerings and double stops on my imaginary "air" violin. Yet, there was one other important factor in the creation of this piece. As I talked about the challenge with friends, the father of a colleague, who in his own right was a highly respected painter, took me aside and gave me one line of advice. It went something like: "You could really write great music, if you truly applied yourself." It was an odd conundrum because I certainly worked hard enough – 6 to 8 hours at a stretch plunking away at the piano and scratching notes onto paper were commonplace for me. But then I realized what he meant - it wasn't about how many hours I worked, but how hard I dug into myself to find out what a piece was really wanting to say. It was though each new work had its own life, a unique voice that needed to be birthed, not as a new born, but as a fully formed adult – saying everything that could be said.
Once the last note was set down with ink on paper, I presented the work to Max. (Yes, I came from the day when we still used calligraphic pens and ink - as part of the craft of composing.) Max looked it over, saying only that it looked playable. A few months later I was invited to the premier in East Hampton. It was my first foray to the famous summertime retreat. Though back in the 70s, The Hamptons were far less crowded, inhabited only by locals, who cared little about avant-garde art; the rich, who were often the patrons of the arts; and small enclaves of artists, musicians, painters, writers, and assorted hipsters.
The concert was at Guild Hall. I sat alone in the back of the half-empty darkened theater. There were other pieces, of course. But in due time, Max walked on stage. A golden spotlight cast a halo around him. He set up the music, straddled across two music stands. He paused before lifting his bow. I turned on my tiny handheld cassette recorder. He began.
Not only did it sound like music, but real music - like the music you heard in the great concert halls. And such playing. I had never heard my music played like this before. A rich sound that filled the room, dazzling technique, and so much more. As Max played, he was uncovering ideas, feelings and thoughts from the score that I had never imagined. Instantly, I understood the synergy between composer and performer. That the composer provides the outline, but the life of the music is in the performer's hand -- and each performer brings their own uniqueness to it, as the music allows.
In following conversations, Max confided to me that of the 300 some odd pieces he had premiered over his long and storied career, Baroque Fantasy was to his mind the best. Certainly, precious conversations that I still treasure. The work became a signature piece and he continued to play it until the end of his life. In the interim Max became a good friend and mentor, commissioning me to create other works for the series over the years. I can still remember the phone ringing: "Is Stuart Ruby there?" "I know it's you Max. Who else would call me Ruby, instead of Diamond."
After Max's passing in 1984, Baroque Fantasy lay dormant. A few years later, I received a call from another friend. There was a deep blizzard outside, but would I do a favor and go to a showcase at one of the studios atop Carnegie Hall. They needed an audience there. So I trudged through the snow to the event to find a handful of people set to listen to some New Age Californian musicians on piano, violin and flute. The host apologized for the performers, who wanted everyone to know that their luggage had not yet made it to their room through the snow - and they didn't have their concert clothes. Stepping out on to the stage was the violinist and pianist. The violinist was a beautiful tall woman, with long flowing dark hair, blue eyes, and wearing a flannel shirt, jeans and cowboy boots. The perfect country western fiddler... until she played.
Karen Bentley, the violinist - an awesome classical musician - was my next candidate for Baroque Fantasy. Karen, as anyone who knows her will attest, is always friendly and open to new musical ideas and suggestions. I sent her the score. And while she thought it interesting, she was not quite ready yet to tackle it. The Fantasy is formidable - not something one simply sight reads and performs easily.
Well, through the years Karen and I became close friends and collaborators. We created many projects together, including KONZERTO - at last my big romantic violin concerto - and has been a regular guest with Electric Diamond.
Then about 5 years ago the Karen decided she was ready to take on the Fantasy. We re-premiered the work at an Electric Diamond concert at Walker Street Studio. The work once more came alive - now in the hands of another great player, who with dazzling technique imbued the music with a whole other set of ideas, insights and feelings.
But Karen is a violinist from a future generation - always looking over the next horizon. She was working on a new concept of incorporating video into a full-evening's presentation. She had the Fantasy on tap, but the artist who was to create the video was simply too busy to produce another work for the show. Karen's prompt response was simply to turn to me and say: "Why don't you do the video?"
So I jumped into creating my first music video. After all I do have 20+ years producing, editing, and even animating - everything from television documentaries, news pieces, commercials, corporate pieces. Scores of projects. It just had never occurred to me to apply these professional skills to my own music. But it was also part of a greater cycle. My skills as an audio engineer, sound designer, especially my background in midi-sequence editing, lay the groundwork for my quick adaption to video editing - just as the new digital non-linear editing technology was emerging. In addition, through this period I had the privilege to work with great graphic and visual artists. I learned through both tutelage and experience how to not only "see", but how to imagine and create visually. As Baroque Fantasy took its final form for live violinist with video accompaniment, an entire new dimension of my own artistry was launched. And today I seem to be recognized as much for my visual work as my music.
The above performance of Baroque Fantasy is a multimedia extravaganza is from Karen (now) Bentley Pollick's remarkable performance at The Chapel at Good Shepherd Center, Seattle.

As I listen to these two renditions separated by almost 35 years I am, of course, struck by both the differences as well as the similarities. But there is something more here - especially as I listen to Max's performance. Though Max has not been with us for several decades now, I can still hear his passion, his intellect, the power of his feelings embedded in the arc of his phrasing and the ferocious intensity. That underneath the sunny and sometimes light-hearted persona was a depth of being and understanding of both the beauty and heartache of our humanity. As I listen, he lives again - albeit within myself - through the prism of notes that I once penned to paper. And even beyond Max's performance I can hear the legacy of Leopold Auer, of his world, of his own power and technique – the man who once was the toast of Europe.
To have your sounds and soul come alive in others – now and into the future. Perhaps this is what we as composers and performers most seek – a brief flicker of insight into what is the very nature of immortality.
Stuart Diamond