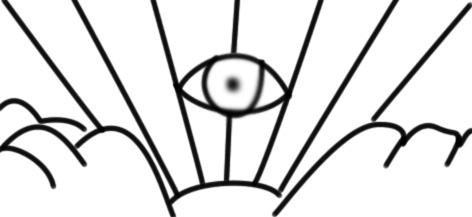 The Forwardian Arts Society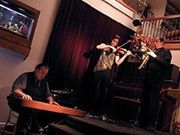 Shine On Electric Diamond
Paul Adam Smeltz
As the gentleness of a Summer evening unfolded, Don Slepian and his wife Jan Julia opened the doors of their East Stroudsburg, PA home for an eagerly anticipated ArtMusic Coffeehouse Concert on Saturday June 23rd. Although previous concerts created a sense of wonder and awe to those who attended them, this particular evening provided an opportunity for electronic music lovers to experience Keyboardist Don Slepian and his longtime musical companion Stuart Diamond on his Electronic Wind Instrument performing together as Electric Diamond. They were joined by Violinist Karen Bentley Pollick whose considerable talents proved to be an extra treat rivaling the cookies and cakes placed upon the snack table.
As friends who have attended previous concerts at the Slepian home became acquainted with new comers found their places together to enjoy the performance, the carousel horses that adorn their residence could be seen partaking of the excitement as they poised their ears in anticipation. It wasn't long until Don welcomed the audience in his living room as well as those who were experiencing the concert through their Live Video Webcast. It was only a span of a few moments until Don took his place before his keyboards and began his customary musical introduction to the concert.
This was seamlessly followed by the appearance of Stuart Diamond on stage as he joined Don in one musical rendering after another. Their performance showcased the best of what many have come to appreciate about the texture and qualities inherent in Electronic Diamond bringing back memories to some and new internal avenues to explore in others. Yet, when Karen Bentley Pollick joined the duo, the songs sung by her violin made the impossibility the performance could be transcended a self evident reality.
The combination of the musicians' insights and love for the music shined throughout the performance illuminating their audience into a thoughtful contemplative reflection. There was a peace felt among those who listened as they closed their eyes so their hearts and souls could be fully opened. One came to understand why many of the names mankind have given their particular deities have the "Ah" sound in them for it was a sound heard often during the concert.
Electric Diamond is an electronic classical music ensemble who first performed in 1976 at Carnegie Recital Hall as well as the Guggenheim Museum, and other venues throughout New York City. Don Slepian joined the group's founder Stuart Diamond and soon began to present programs integrating classical music with free-flowing improvisations. On many occasions, other artists join the duo integrating their skills and insights to the performances. You'll be able to learn more about Electric Diamond by Exploring their Website at www.electricdiamond.com for more information.
The ArtMusic Coffeehouse is held in the home of Don Slepian and Jan Julia who reside in the borough of East Stroudsburg, PA as part of the Concerts In Your Home Series. A variety of musical forms are presented including folk, jazz, classical, and electronic music. The ArtMusic Coffeehouse now offers those who have access to the internet an opportunity to experience their concerts online and participate in their chat room.
© Copyright Diamond Music