21st Century Music Magazine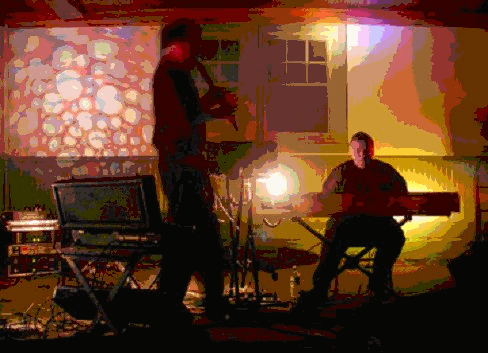 ELECTRIC DIAMOND
By Phillip George
Electric Diamond is a step beyond... A window into the future of music. With the release of their first CD, Electric Diamond goes beyond the new age, Ancient airs from the Middle Ages, flute songs of Native Americans and their own original composition are passed through the prism of Electric Diamond to emerge recast for a new millennia.
Ambitious words and music. Certainly, this is a pleasant enough album, as performed by Stuart Diamond, lyricon, Karen Bentley, violin, and Don Slepian, keyboard. What, you ask, is a lyricon?
The Lyricon is an electronic wind instrument, invented by Bill Bernardi, that transforms the player's breath and embouchure pressures into electrical voltages which in turn control an Oberheim (OB-1) synthesizer.
That straight, what's it all sound like? Well, cream-puffy, new/middle-agey, to begin with, in five creative renditions of familiar medieval dances (two French, two Italian, and one designated English), harmonized and rhythmicized (purists beware!). The 14th-century "Ductia" has the lyricon coming off as an Irish Piper, and the 13th-century "Dance Royale" takes a stately rather than a perky approach.
"Lamento di Tristano" (14th-century) takes the solemn approach of Florilegium Musicum of Paris rather than the uptempo version of HAM; "La Rotta" finds an electric dungeons-and-dragons (with a hint of "Peter Grimes") rather than the sometimes heard Greek party. While the manuscript for "Trotto" is housed in the British Museum, it is Italian, rather than English, in a realization spirited, if not passionate, wittily employing a pseudo-tango beat.
Presumably original compositions range in style from koto-like flourishes, neoclassic virtuosity, and minimalist urgency in keyboard to suggestions of country, blues, and jazz in the expert violining. The music has a breadth and a passion that searches across a wide spectrum, and the lyricon demonstrates an ever-surprising range of techniques and timbres.
Three large sections -- "Arcadia," "The Shades of Light," and "Sirens" are concluded with another borrowed music, now from Native American flute songs, in "Painted Clouds," which has haunting suggestions of Mahler's "Symphony No. 1" and Villa Lobos's "Little Train." But like Ives or Stravinsky, the disparate influences here add up to the convincingly melodious whole that is Electric Diamond.
© Copyright Diamond Music